Touring kayaks
We have a small selection of touring kayaks available for our paddlers. These boats are more advanced in design and functionality than our recreational kayaks and while they are perfectly suitable for a short afternoon journey down a lazy river, they are also suited for multi-day trips.
NECKY CHATHAM 16
The Chatham is a true Greenland-style sea kayak with 3 storage compartments, a retractable skeg, and is known for it's great primary and secondary stability. Maximum paddler weight approximately 250 pounds.
PERCEPTION ECLIPSE 170

Similar to the Chatham, the Eclipse is a slightly larger boat. At 17' in length with a larger volume, this is the biggest touring kayak we offer. Two very large watertight storage compartments in the bow and stern, plus a foot-controlled rudder system make this a breeze to navigate down the river or across the lake.
DAGGER CORTEZ 16.5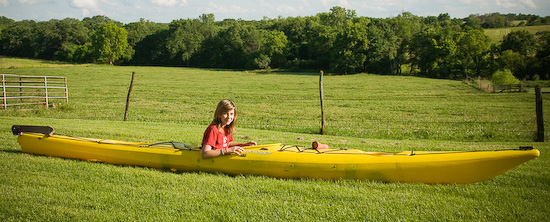 The Cortez is very similar to the Eclipse in design. Slightly less volume and displacement, this kayak boasts adjustable outfitting to keep the paddler comfortable all day, as well as plenty of watertight storage. Also equipped with a foot-controlled rudder system, this boat will take you across the water or down the river with very little effort.
PERCEPTION AQUATERRA

Following the same trend as the above boats, the Aquaterra is a 17' sea kayak with watertight storage at the bow and stern, foot-controlled rudder system, and very efficient tracking through the water. This particular kayak took part in the local Missour River 340 race a few years back, so there's no doubt it can handle our daily or multi-day excursions on the Kaw.