Located in the Lawrence, Perry/Lecompton and Topeka area, Up a Creek is dedicated to providing you with memorable water outings. Whether it's an afternoon or all day float or an overnight campout on a sandbar, when you paddle with Up a Creek "If you have a bad time, It's your own fault!"
Posted by mindi on Mon, 04/18/2016 - 4:46pm
The first official Yoga on the Kaw float.  PJ did a great job leading the class and the sand, water and sun made it a great experience!  
Posted by mindi on Mon, 04/18/2016 - 4:38pm
Today was an outing to test the waters of Mother Kaw to see how Mediation and Yoga would work on the sandbars. Kaycey lead us through a short mediation that was great! Add in Nature's wind, sand and water lapping up on the sandbar and it was a home run! Be sure to sign up for her Power Hour of mediation on April 30th. The yoga was great also. We did learn that the sand adds a new element to practicing the postures and the connection to nature. Sign up for our yoga float on April 16th if you can join!

Puppy
Posted by mindi on Thu, 05/07/2015 - 1:51pm
We didn't find any mushrooms on Saturdays float but after looking for the sun all day long we found it on the last sand bar.When you looking for something it's always in the last place you look...right?
Posted by mindi on Thu, 05/07/2015 - 1:36pm
From Craig: 
I want to thank everyone for joining me today on my birthday float! The clouds cleared out long enough for us to enjoy some sun, sand paddling and a beautiful
spring day. Once again thanks paddlers it was a great day and looking forward to seeing everyone on the water soon!
Puppy 
Posted by mindi on Wed, 03/11/2015 - 6:59pm
Sunflower Bike Shop will be bringing SUP boards to Freestate for those interested in learning more about the sport. Up a Creek Canoe & Kayak Rental will be there for their regular pool session for those that may want to try paddling a kayak or learning how to roll a kayak. There is a $10 entry fee per person and depending on the number of people showing up there may be some wait time to try the SUP's or kayaks out. If you have your own SUP or kayak you can bring it with you. Please make sure that all equipment is clean from debris. Enter the facility from the north doors in the north parking lot. All regular pool rules apply. 
If you have any questions contact Craig Pruett at 785-840-4204 or  Sunflower
Sunflower FB event | Up a Creek FB event
Posted by Kayoda on Wed, 10/29/2014 - 12:09am
Paddler's. You know how much UAC loves being on the Kaw and this weekend was another reminder as to why we are smitten by her beautiful and giving ways. Saturday started out with the great flow rate, sunny skies and fall colors beginning to show their colors on the banks. Saturday evening was awesome with a stunning sunset, warm fire, family, friends and a delicious dinner. Sunday morning…Sunday morning was stunning. We woke up to a heavy dew and thick fog lifting off the river. As the sun began to rise colors and tones exploded in sky and shimmered on the water. Dazzling and exquisite nature unveiled itself to us in show that reminded me of a cinematographic story that I would see at a Banff festival. As I stood at the bank of the river mesmerized by the incredible show that played in front of me I was humbled by the beauty that only comes from nature and feeling very fortunate that we had decided to put ourselves at that place and at that time. After a hardy breakfast we pushed off from our campsite and we were greeted yet again by sunny skies, great water flow, eagles, hawks, cranes, sand pipers, white pelicans, hundreds of crows, a crisp air on our faces, old majestic trees on the banks and a warmth in our hearts.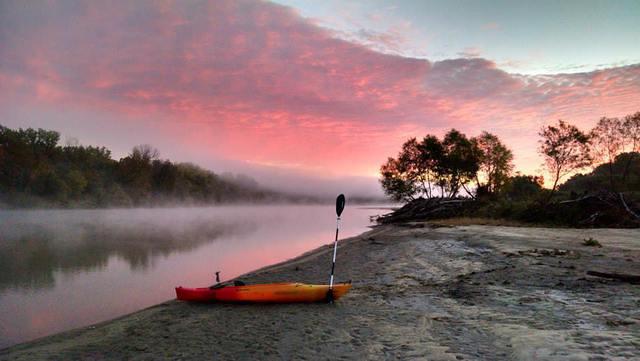 Posted by Kayoda on Wed, 10/29/2014 - 12:06am
If there was common theme for UAC's 2014 paddler appreciation float it would have been...No Worries! It started with the bus breaking down in the parking lot. No worries, we had a few late paddlers any way and it gave everyone time to go get a few more provisions at the grocery and liquor store for the day as we waited on the other bus to show. Two storm fronts that rocked though the area. No worries! The first was east of us and the second west of us. It typically UAC fashion it all worked out in the end. Sunshine, great floating, awesome beaches, happy paddlers and plenty of reeses smores to go around the campfire!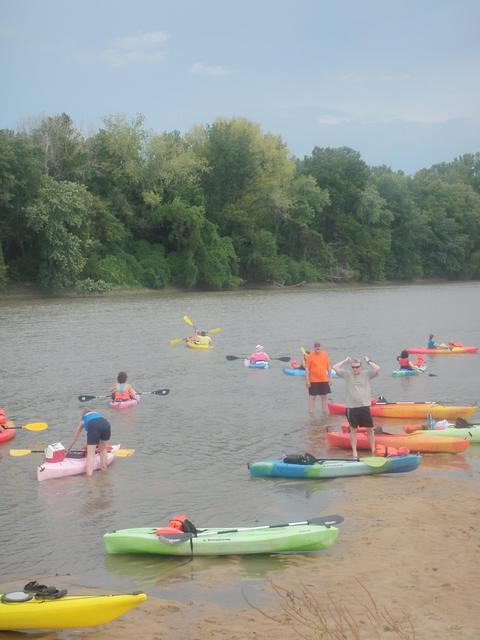 Posted by Kayoda on Sun, 08/17/2014 - 12:08am
As the UAC staff and I were washing kayaks at the carwash at 11:30 pm after the Red Moon float, 2 questions keep coming to my mind. The first, where did all of this mud come from?!?!? I was on the float. With the river levels so low there was way more sand than mud?! The second, what person in their right mind would be washing kayaks at 11:30 pm at night?! Flash forward to this morning as I was going through the pictures from the float and I began to remember why we do moon light floats; happy paddlers, lots of smiles, floating and chatting about life, a colorful sunset, a campfire on the sand bar, hotdogs cooking on a stick, smores (which we ran out of quickly, sorry paddlers, next year more Reeses), music, campfire chatter and yes that awesome, awesome super moon that rose up off the eastern skyline and into a starry sky! 
Here's to another spectacular moon light float on the Kaw! 
Puppy
Posted by Kayoda on Sun, 08/17/2014 - 12:05am
We had quite a turn out for our 2104 Naughty Pirate Float. 28 paddlers showed up in some sort of pirate regalia for a day of paddling, games and mischievous behavior! We ended up short one pirate by the end of the float, Pat "The Powder Monkey". It seems that our motley crew of paddlers got a little rough with Pat while he/she was being tied up to the stake for our last game of the day and Pat just couldn't stay inflated. 
Arrrgh!!!!! All and all another victorious day of pirating on the Kaw!
Puppy
Posted by Kayoda on Sun, 08/17/2014 - 12:01am
From "Dazed" to "Dazzled"! What a great day to be on Mother Kaw. We had first time floaters, the 2012 UAC groupie joined us for the first time this year, a brother and sister showed up to float and didn't realize that the either were going to be there, we had floaters from out of state and out of the country, fantastic weather, great clouds, nice breeze and the river flow rate came up from 1840 cfs to 5300 cfs (an awesome flow rate!). Thanks to all that joined and that made it a great day!
Puppy