Recreational Kayaks
Our recreational kayaks are 9-12 feet long, wide-bottom boats made for easy, stable paddling. They're comfortable and perfect boats for beginners or intermediate paddlers.
PERCEPTION SWIFTY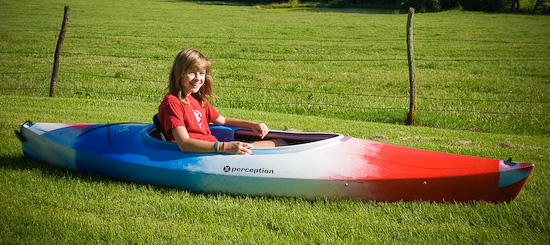 Built as an entry-level kayak, the Perception Swifty is a 9.5' kayak which can hold a maximum weight of approximately 250 pounds. We have eight of these boats in our fleet in various colors and they are by far our most popular boats for easy paddling on the Kaw.
PERCEPTION SWIFTY TANDEM II

The only tandem in our fleet, unfortunately, this is a very popular boat. A nice transition for those couples who are more accustomed to a canoe but want to try kayaking together, the tandem is 17' in length (same as our canoes), very well balanced and easy for people with little to no experience paddling. Ample storage space in this boat as well.
SIT-ON-TOP
The premier ride for hot days on the river! Our sit-on-top kayaks are self-bailing, meaning they have several perforations in the body which allows the boat to sit slightly lower in the water. While on this boat, you're cooled by the water below you. You're not going to win any X-games races in this boat, but it's super comfortable and the open design allows for a much better all-over tan!
VICTORY BLAST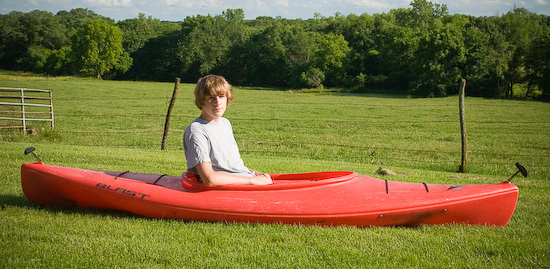 The Blast is a 9.5' entry-level kayak with great initial stability. Similar the the Swifty, but with a slightly different body style. Paddler weight range up to approximately 275 pounds. We have just one Blast in our fleet.
PERCEPTION MONTOUR

The "Monty" was our first mid-range kayak. At 11 feet it is a longer boat than the Swifty and Blast, but it has a narrower cockpit and a more sleek design made for more efficient water displacement. The Montour is also equipped with a watertight rear storage compartment and a retractable skeg, which allows for a more straight track through the water. Maximum paddler weight: 350 pounds.
PERCEPTION SUNDANCE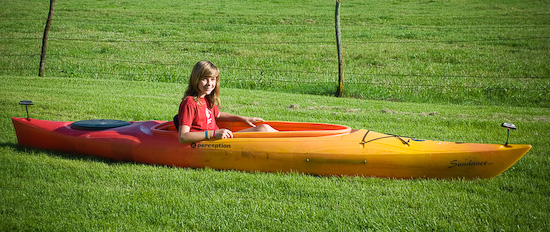 At 12' in length, the Sundance is our largest solo recreational kayak, with a maximum paddler weight of 350 pounds. Watertight storage in the stern and plenty of room for comfort in the cockpit, this boat is great for afternoon or small overnight excursions. A very smooth ride and super-comfortable.