Located in the Lawrence, Perry/Lecompton and Topeka area, Up a Creek is dedicated to providing you with memorable water outings. Whether it's an afternoon or all day float or an overnight campout on a sandbar, when you paddle with Up a Creek "If you have a bad time, It's your own fault!"
Posted by Kayoda on Mon, 07/09/2012 - 9:50pm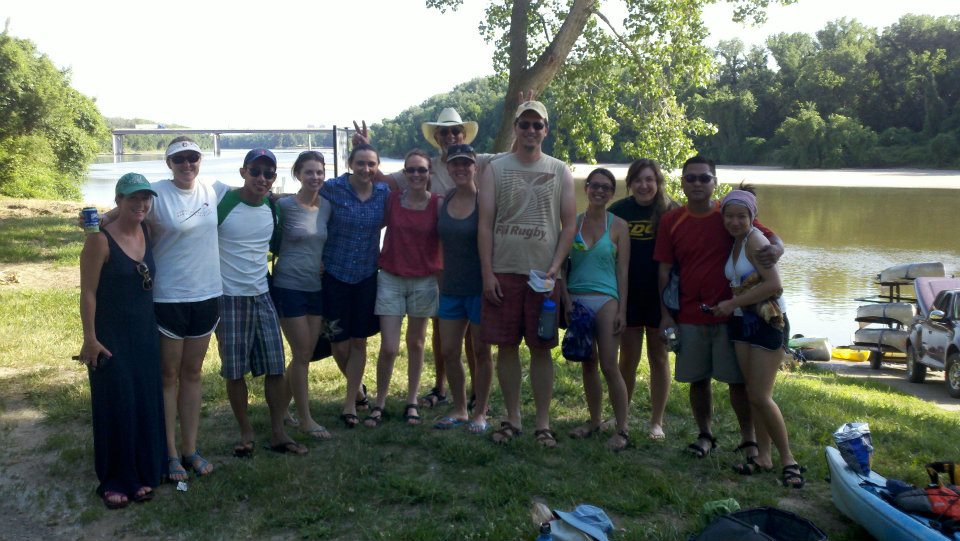 Posted by Kayoda on Mon, 07/09/2012 - 9:50pm
Posted by Kayoda on Mon, 07/09/2012 - 9:48pm
Posted by mindi on Sun, 11/06/2011 - 12:05pm
Hey Paddlers! Have you ever wanted to learn more about kayaking or practice your paddling skills in the setting of a warm pool during the late fall and winter months?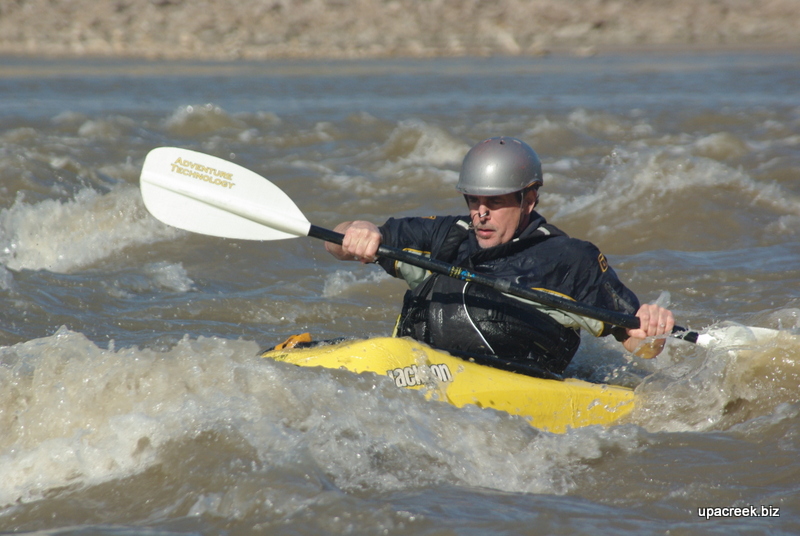 Join UAC at the Free State Pool in Lawrence. Dates are alternate Sundays beginning November 13 and running to April. Time is 10am to 2pm and price is $10.00 per person.  Enter through the north doors of the Free State Pool Complex.  Bring your gear and kayak. Gear and kayaks must be clean of all dirt, mud, and debris.  To paddle a kayak in the pool a helmet and PFD must be worn at all times.  All Free State Pool rules and regulations apply to participants. For a complete list of dates look at the upcoming events calendar.
Contact us to let us know you will be there or if you have questions. We might have spare gear for you to borrow for the sessions, so let us know!
Posted by mindi on Sat, 10/29/2011 - 8:42am
We've been busy getting the Up a Creek photos from this summer posted out on the site. We had a great summer and hopefully we'll see everybody back next year!  Check out the pix and then email any that we missed to mindisalas@gmail.com.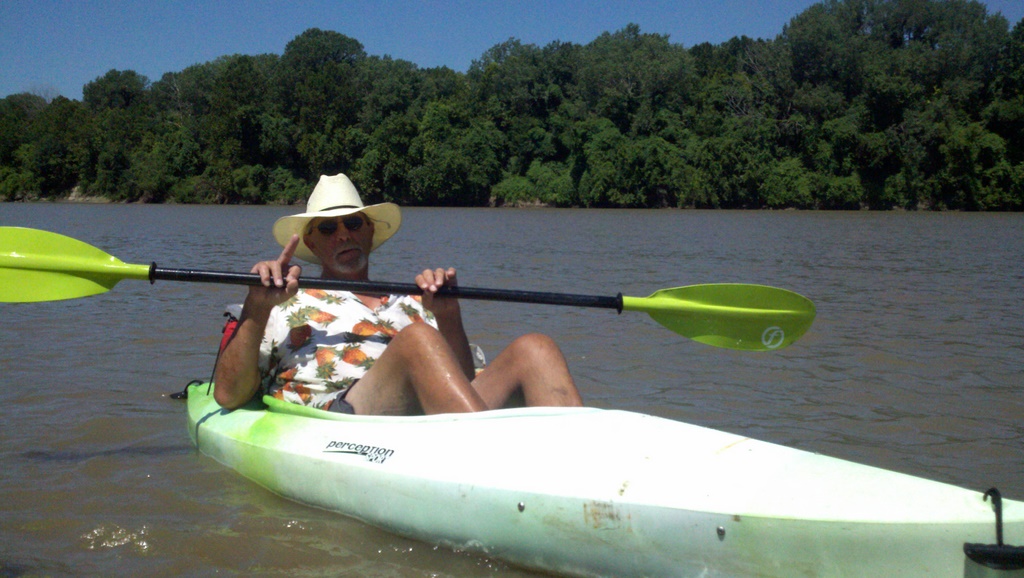 Posted by mindi on Fri, 10/28/2011 - 1:29pm
Up a Creek celebrated the dog daze of summer just recently. Check out pix of Puppy and Fam floating the Kaw.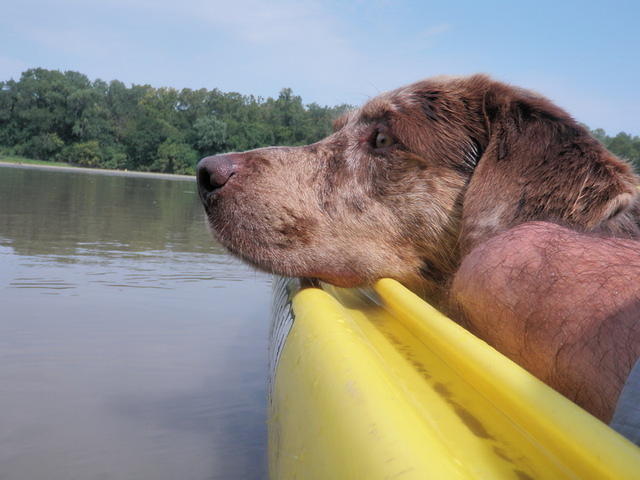 Posted by craig on Tue, 10/04/2011 - 3:33pm
Hello UAC Paddlers! I found myself out this last weekend in the timber beginning to cut this winter's wood supply. As I looked out over the foliage I noted that the hedge and mulberry trees were starting to turn their orange and yellow colors. It got me to thinking of the fall foliage on the Kansas River. As much as I love summer's heat and a cold IPA on a float down the Kaw, nothing quite compares to it like floating down the Kaw on beautiful fall afternoon, the river cutting through the beautiful fall foliage on the banks and stark blue skies above you.  Make your plans now for a float trip to enjoy Mother Kaw, the fall foliage and UAC for the next 3 weekends in October. This weekend, October 8 is a Jay's Float,   6.5 miles of the best stretch of what Kaw has to offer from here to Topeka. The float will start at 12:00. October 15th is Perry to Lawrence Float, 11 miles of winding turns and sand bars. This float will start at 12:00. October 22nd is a Delaware Float, 5 miles of high embankments and plenty of wildlife for you animal lovers.  If you have interest in any of these floats contact by email or phone;  Puppy at 785-840-4204 or Uncle Ron at 785-213-6981.
Posted by craig on Fri, 07/15/2011 - 1:26pm
The Katies returned to float down Mother Kaw this year and came with hubbies and boyfriends in tow. Of course you can't see them in this photo; they're off to the left of the girls soaking up some brews, water and sun. But what a nice pic of the girls though!!!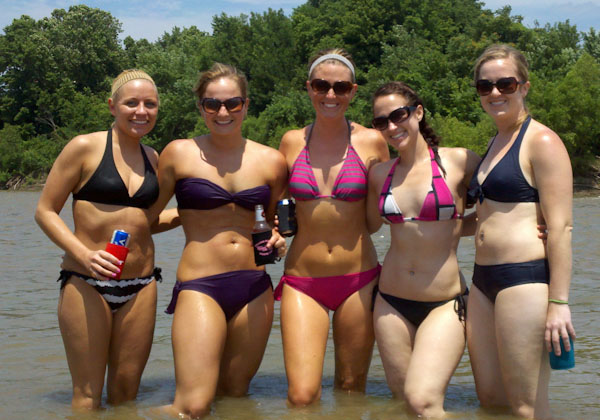 The Katie's just about broke a record for a Jay's run - 6.5 miles in 8 hours! (The record is 9 hours for a Jay's run held by Standard Tire Crew.) Better luck next time girls! Check the photo gallery for more from this kick-ass day on the Kaw.
Posted by shannon on Tue, 05/31/2011 - 10:32pm
Memorial Day 2011 was one for the books with Up a Creek. 29 paddlers, 10.5 miles of river and 40+ mph winds made for a more than memorable afternoon. Props to Lila, queen of the Jello shots, Tim and Mindi, gods of sand and mud, Dozier for braving a solo canoe in the white squall, Mike for not getting second degree burns, and Lacy for walking a fine line between sobriety and the dark side.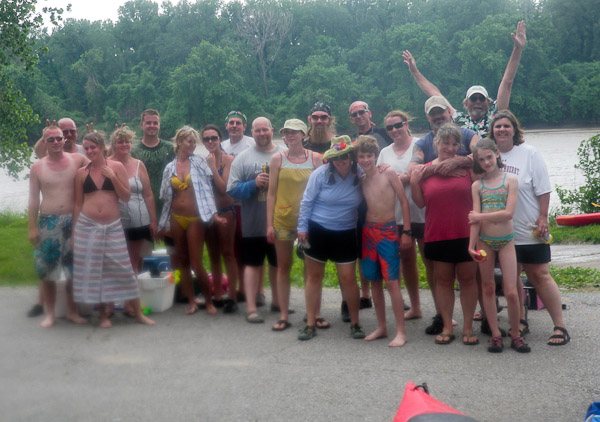 This was the UAC official season kickoff and as expected, we had a blast and paddled it with style. As always, if you have a bad time, it's your own fault!
-Uncle Ron, Baywatch & Puppy
Posted by shannon on Thu, 05/12/2011 - 7:26pm
A flash from the past in prep for the future. Here's Lorrie showing us how it's done, circa summer 2008. Typically this is Uncle Ron's trademark move, but not that day!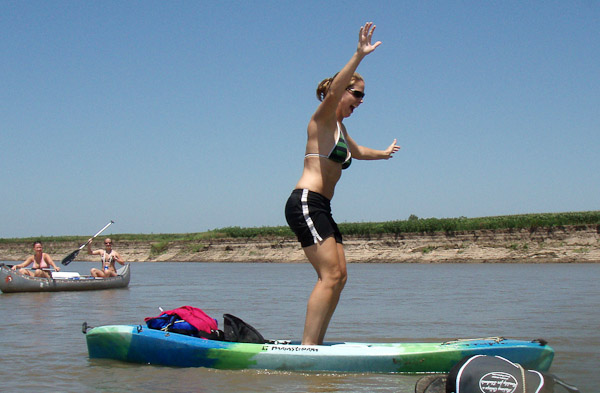 Looking forward to seeing her again when she hauls her volleyball team up here from Texas in July to hit the Kaw, Up a Creek-style!